my 1st entry on december...
december mood?..holiday mood should be,but still at my uni,sit for my exam.
today.1st of December?..anything special to me?..ermm,nothing special...but today one of my friends turning to 21years old...
NORFAREZAN HASSIM
.happy bday syg~,~
turning
21
oredi.wish u will have
happy ending with ur Ridh.
*sorry yan,xmsg ko on 12.busy bha sia belajar itu statistik.ngee...*
apa2pun Yan,aku doakan ko dapat yg terbaik..
ada masa,kita lepak'ing sana JP,tpi ko belanja la.hehehe.
special buat bday girl hari ini ;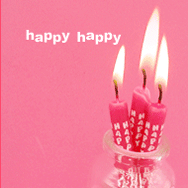 and this for u Yan...
*i know u like this very much*